This slideshow requires JavaScript.
We are CWA Local 3607 in Greensboro, NC.  
Located at 129 Industrial Ave., Greensboro, NC 27406.  
Contact us at 336.230.1211 
---
As of Dec 11, 2017 the Elections Committee has Certified the following Election Results:
President

Rodney Hughes
Executive

VP  Joan Brooks
Secretary /Treasurer

  Tracey Dickson
Sector VP/wireless

  Rose Pinnix
Sector VP/landline

  Bo Kennedy
Area VP/wireless 

James Alford
Area VP/wireless

  George Devane
Area VP/landline

  T Craig Travis
---
Notice to the Membership of CWA Local 3607
The undersigned members of the local elections committee certify that the results of the tabulation of ballots cast in the election concluded on 11/29/17 and posted on 11/30/17. The results are as follows:
President                           Rodney Hughes          Won by acclamation
Executive VP                    Jason Blackwood        28
Executive VP                    Joan Brooks                 34
Secretary/Treasurer   Tracy Dickson              31
Secretary/Treasurer    Stacy Henderson        30
Area VP/Wireless           James Alford               38
Area VP/Wireless           George DeVane           31
Area VP/Wireless           Karen Watkins            13
Area VP/Landline           Timothy Travis           Won by acclamation
Sector VP/Wireless         Rose Pinnix                Won by acclamation
Sector VP/Landline        Steven Bo Kennedy   Won by acclamation 
The new officers will be sworn in at the December meeting.
Denita Smith, Byron Daniels, Sherri Brown, Candy Williams, Danielle Stone and Yolanda Norris
---
TENTATIVE CERTIFICATION OF RESULTS
CWA Local 3607 Tentative Certificate of Results
Executive VP                Jason Blackwood   28
Executive VP                Joan Brooks            75
Secretary/Treasurer   Tracy Dickson        65
Secretary/Treasurer   Stacy Henderson   38
Area VP/W                    James Alford         65
Area VP/W                    George DeVane     74
Area VP/W                     Karen Watkins     24
Notice to the Membership of CWA Local 3607
I, Denita Smith, Election Chairperson for CWA Local 3607 and my committee would like to advise that there has been a challenge of the election that took place on October 17-18, 2017.  There was some illegal activity involving candidates that took place during the election. We have received in writing that some candidates would like to challenge the election. The elections committee and myself will review and make a decision based on our findings. Any questions concerning this process should only be directed to Byron Daniels or myself.
Regards,
Denita Smith and Byron Daniels
---
Please be advised that
CWA Local 3607 did not send a text message telling you who to vote for. We have not and will not endorse any candidates in our local elections. So if you got a text that says…
"We are CWA Local 3607 in Greensboro, NC Located at 129 Industrial Ave., Greensboro NC 27406…
Please elect …."
The Local did not send this!
---
It's Time To Cast YOUR Vote
It's THAT time again, when we at Local 3607 come out to vote for the incoming Officers. As a reminder, the term of office is 3 years and ONLY MEMBERS can vote… If you are not a member and would like to vote, see a steward to sign a Blue card. Once we have your member card at the office, You May Participate.
The Offices that will be voted on and the Nominees are are follows:
If a member won by acclimation, it means it is not necessary to vote for that office, because they won by default. Only the names in BLUE will need your votes. All entities of Local 3607 can vote for the Officers At-Large, for the Sector and AVP positions members can only vote for their work group.
President  –  Rodney Hughes (won by acclimation – no vote necessary)
Executive VP  –   Joan Brooks   or   Jason Blackwood
Sec/Treas  –  Stacy Henderson   or   Tracey Dickson
Sector VP/W  –  Rose Pinnix (won by acclimation – no vote necessary)
Sector VP/L  –  Bo Kennedy (won by acclimation – no vote necessary)
Area VP/W   (2)-  George DeVane   or   Karen Watkins   or   James Alford 
Area VP/L  –  Chris Myrick (won by acclimation – no vote necessary)
Per our by-laws:
voting will take place at CWA Local 3607
129 Industrial Ave, Greensboro, NC  27406.
Polling hours will be no less than 8 hours and not more than 12 hours each day.
No guest will be permitted in the polling area(s) during voting times.
A minimum of two Election Committee members must be present at all times during the voting process.
Ballots with write-in votes shall be voided.
A member may request in writing an absentee ballot for the following reasons only:
     Vacation
     Working out of the Local 3607 jurisdiction
     Jury Duty
     Hospitalization
     Physically incapacitated
The request must be received no earlier than thirty (30) calendar days prior to the opening of the polls and no later than ten (10) calendar days prior to the close of the polls. The request must specify the name and date of the election the ballot is for. Request must specify reason and some documentation for verification purposes. Request include the current mailing address in which the absent ballot will be mailed to. The Election Committee will determine the validity of the address.
ABSENTEE BALLOTS must be received no later than 11:00 am EST on the date of the close of the polls in order to be counted.
'Absentee ballots mailed or hand delivered to the Local will not be counted. The Chairperson(s) of the Election Committee will record all approved absentee request and verify ballots upon return.
The Elections committee has established the voting dates/hours to be:
October 17, 2017 – 
6:00am to 6:00pm
October  18, 2017 – 
9:00am to 9:00pm
Once the Elections committee has tallied all of the votes and verified the count. The results will be posted on the website and announced at the November membership meeting. Any questions please contact the local at 336.230.1211 or the Elections Chair/Denita Smith or CO-Chair/Byron Daniels.
---
Heat Illness Safety Training, Saves Lives
CWA's Occupational Safety and Health Department provided a two-day training session for members of CWA Locals 6215 and 6210 in Dallas, Tex. The training, conducted by Randy Rodriguez, Local 6222 occupational safety and health chair, and Mary Ann Hopkins, president, Local 6502, took up topics including Working in Extreme Temperatures (Heat Illness Prevention) and hazardous materials. The heat stress training helps members identify and respond to the symptoms of heat illness, and emphasizes employer responsibilities for providing adequate training and personal protective equipment and properly responding to members.
Just one week after the session, a member of Local 6210 was working alone in an attic and then outdoors for several hours. The average temperature for the day was 95 degrees Fahrenheit. The member initially reported feeling hot and nauseous to management, but continued working while again notifying management that his symptoms were not going away and assistance was needed.
The member contacted the steward who attended the safety and health training, who advised the member to seek water, rest and shade. On arrival, the steward determined that emergency services were needed and called 911; the member was hospitalized and hasn't yet been authorized to return to work.
Local 6219 President Dwayne Webb encouraged all CWA members to participate in safety and health training, stressing that his member's life was saved as a result of the session.
---
CWA Wireless Leadership Conference

It's that time again! We are excited to announce that Unity@Mobility will once again be offering 15 scholarships for Mobility members to this year's CWA Wireless Leadership Conference.
This year's conference will be held in beautiful San Juan, Puerto Rico from Oct. 22-25, 2017. Scholarships cover the cost of travel, hotel accommodations, lost wages, registration fee and meals for each winner.
Click here to download your application today!
This is your opportunity to connect with other wireless workers from around the country, learn from each other, develop skills to take back to your local and become a union leader in your workplace!
If this sounds like something you are interested in, please submit an application today!
Applications are due on September 8, 2017.
Winners will be announced on September 15th, so you will have time to get off work!
---
Call Center Legislative Update
CWA's nationwide fight to protect call center jobs continues with several states taking action to pass legislation that would help keep jobs in the U.S.
Ohio
Lawmakers from the Ohio House of Representatives held a hearing this week on state legislation that would stand up against the offshoring of call center jobs from Ohio.
Introduced in both houses of the state legislature, HB 245 would help revitalize the Ohio call center and customer service industry. The legislation would create a list of Ohio companies that offshore call center and customer service jobs to overseas locations and would deny these companies access to taxpayer dollars in any form. The bill also would require that all customer service and call center work done on behalf of the state of Ohio is done within the state.
New York
The New York version of the call center legislation, sponsored by New York Assemblywoman Linda B. Rosenthal, passed in the New York State Assembly by 101 to 14 votes. The legislation will be taken up by the State Senate next.
---
 

How AT&T's Outsourcing Compromises Customer Service and Job Quality
Frustrated that AT&T has failed to come to the table with serious proposals that protect good jobs, wireless retail workers – members of CWA – are taking their concerns about the telecom giant's expanding web of third-party dealer stores, known as authorized retailers, directly to customers. Workers launched a new website – ATTConsumerAlert.org – that provides tips to help customers spot these dealer stores and their Wells Fargo-style quota systems that may create service headaches for millions of people.
A new report released by CWA provides an in-depth look at the company's vast network of more than 3,360 stores that operate under the guise of AT&T's logo but are actually owned by third parties that run a low-cost business model that brings risks of not only worker exploitation, but also customer harm. Over the past few years, AT&T has increasingly handed over the operations of its retail operations to these third-party dealers—they now represent over 60% of all AT&T branded stores.
"Because AT&T's authorized retailers push a 'quantity over quality' mentality, in my experience authorized retail employees simply don't have the resources to provide the trustworthy and reliable customer service customers expect," said John Morrison, an AT&T retail worker in Florida. "There is a never-ending stream of AT&T customers coming into my store with complaints from dealers. What's the result: my co-workers and I lose out on our own pay to clean up the mess and our customers get the runaround—all while AT&T brings in billions in profits."
The Consumerist published a piece highlighting the issues with AT&T's network of third-party dealers:
"AT&T's third party dealer stores look like full-fledged AT&T outlets, but they are often skeleton operations with smaller staffs and less ability to meet customer needs," reads a newly released report [PDF] from the union. "It appears that the companies running these stores are not looking to burnish the brand – after all, they depend on AT&T to provide a quality network and compelling marketing – rather they seem to be seeking to maximize sales with minimum expenses."
The CWA maintains that third-party owned locations provide a degraded customer service experience, and their report contains a long list of alleged issues that they claim stem from a sales-focused culture, lower pay, and aggressive commission structure offered by third-party dealers. The union is pushing for AT&T to commit to a specific ratio of corporate-owned to authorized retailers — a concession that would place a check on the growth of the third-party operations.
---
Made in the USA…
Did you know that for every $1 spent on American made goods, an additional $1.32 is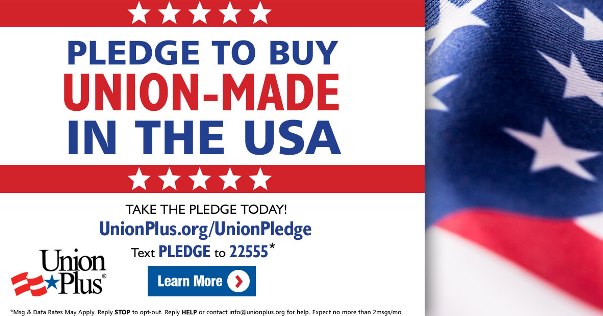 invested in the U.S. economy?
Buying union-made in the U.S.A. is an easy choice, but it does take extra time to check the label. Take the pledge this holiday season to take the extra effort.
Because having each other's back, especially around the holidays, is what being a union member is all about.
Click through to sign the pledge, and we'll send you exclusive union-made lists to help you buy union-made. Plus, five union members will be randomly selected to receive a $75 gift card to a unionized grocery store in their area.
---